John Lennon Acoustic Guitar: A Tribute to His Guitar Genius
By Gerard Fay
Artwork Title: 'John Lennon Acoustic Guitar'
This post also contains affiliate links and I will be compensated if you make a purchase after clicking on my link.
A Closer Look at The Detail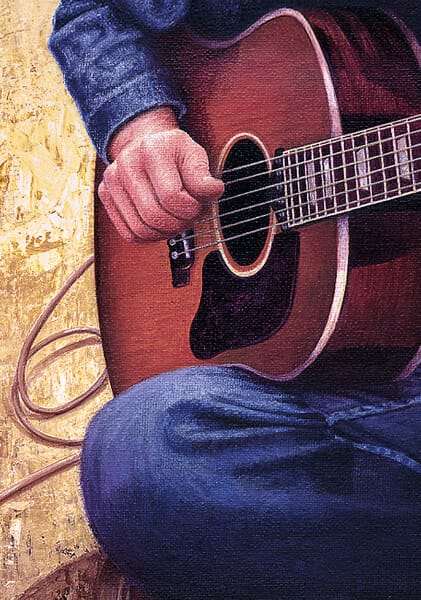 The original artwork of John Lennon playing his Gibson guitar was a black & white photo reproduction of what appeared to be a pencil drawing.
The artist is unknown. The image was not high quality and a lot of detail was lost. However, I was asked by a friend if I could recreate the image in color, and this was the result.
I decided to use acrylic medium on a boxed canvas. To apply the background paint I used a palette knife and washes of color.
For the textures, materials, figure work, and detail I used various brushes.
Subtotal
Total
Total Due Today
Purchase
John Lennon Acoustic Guitar Portrait: A Tribute to His Guitar Genius
Introduction
John Lennon is a legend in the music world. As a singer, songwriter, and rhythm guitarist for The Beatles, he created timeless pop classics that changed the course of music history. He was also known for his creative collaboration with Paul McCartney and his innovative rock compositions. But Lennon had another side to his musical talent: his love for acoustic guitar and simple musical arrangements. This side of him became more prominent in his critically acclaimed solo albums, such as John Lennon/Plastic Ono Band and Imagine. In 2004, a tribute album called Acoustic was released, featuring some of his best acoustic guitar performances from his solo career.
1. Overview of "Acoustic" Album
The "Acoustic" album was conceived as a compilation album that would showcase John Lennon's acoustic guitar skills from his solo career. The album contains a variety of recordings, such as demos, studio cuts, and live performances, that highlight his acoustic guitar playing. The album demonstrates his mastery of fingerpicking, strumming, and harmonics on the acoustic guitar, as well as his expressive vocals and lyrics. The album also provides a glimpse into Lennon's musical evolution as a solo artist and independent musical force. Though not as famous as his Beatles era, Lennon's solo years produced some of his most personal and profound works. "Acoustic" celebrates these creations and the minimalist beauty of Lennon's acoustic guitar artistry.
2. Notable Tracks from "Acoustic"
Some of the most notable tracks from "Acoustic" are:
"Imagine": This is Lennon's most famous solo song and one of the most celebrated songs in pop history. It is a song of peace and hope, backed by a gentle acoustic guitar melody. It has become an international anthem for peace and a timeless classic.
"Look At Me": This is a demo from John Lennon's Plastic Ono Band era, featuring just him and his acoustic guitar. The song is raw and confessional, reflecting his reinvented artistic vision. The fingerpicked arrangement showcases his acoustic guitar skills.
"Mother": This is another song from Plastic Ono Band, dealing with Lennon's childhood trauma and abandonment issues. The song is haunting and powerful, with Lennon singing passionately over a solemn yet intricate acoustic guitar.
"Love": This is a song from John Lennon/Plastic Ono Band, expressing his counterculture message of peace, love and understanding. The song highlights Lennon's new minimalist musical direction, with just him and his acoustic guitar.
"God": This is the epic finale from Plastic Ono Band, where Lennon declares his disbelief in faith, idols and false prophets. The song builds into an existential climax, with Lennon strumming fervently and singing defiantly over dominant acoustic guitar.
3. John Lennon's Acoustic Guitar
John Lennon used various acoustic guitars throughout his career, but he had a few favorites that influenced his sound and style. One of them was the Gibson J-160E, a six-string acoustic model introduced in 1954. This was his main writing and recording instrument for many Beatles songs and solo hits like "Imagine" and "Jealous Guy." The guitar had a spruce top and mahogany back and sides, producing a mellow tone that suited Lennon's preference for fingerstyle playing and interest in folk-blues forms. Another favorite was the Martin D-28, a classic dreadnought model that Lennon used for songs like "Working Class Hero" and "Gimme Some Truth." The guitar had a solid spruce top and rosewood back and sides, producing a rich and balanced sound that complemented Lennon's vocals and lyrics. Lennon also experimented with other acoustic guitars, such as the Ovation Legend acoustic-electric guitar that he used for some recordings on Double Fantasy. No matter the guitar, Lennon's acoustic performances were essential to his solo career masterpieces.
4. Lennon's Favorite Guitar and Its Significance
Out of all the guitars he owned and played, John Lennon's favorite was reportedly his Gibson J-160E. This was the guitar that he used for most of his Beatles career and his solo career. It was more than just a guitar, it was his creative companion and an integral part of his artistic identity. He once famously said, "Without this guitar, the Beatles would have been a different…group altogether." The Gibson J-160E helped Lennon prototype chords, arrangements, melodies and lyrics for what became the Fab Four's revolutionary catalog. It also enabled him to reinvent himself as a solo singer-songwriter and create intimate folk ballads like "Imagine" that defined an era. Though stolen after a 1963 holiday performance, Lennon's beloved Gibson J-160E was recovered in 2015 and will forever be associated with his musical gifts.
5. Reception and Reviews of "Acoustic"
The "Acoustic" album was released in November 2004, receiving positive reviews from critics and fans alike. Music journalists praised the album for revealing "startling new insights into Lennon's art"1 through its stripped-down arrangements. Some noted that Lennon's rhythm guitar brilliance often went unnoticed next to his songwriting, so "Acoustic" finally gave his stellar musicianship proper recognition. Rolling Stone called the album "quietly compelling…the stillness at the center of the pop maelstrom"2. Fans especially enjoyed hearing rare Lennon demos alongside famous classics like "Imagine" with minimal production. For both critics and audiences, "Acoustic" offered a refreshing perspective on appreciating a legend.
6. Other Related Albums and Works
John Lennon's "Acoustic" album is not the only solo work that showcases his mastery of stripped-down arrangements and acoustic guitar. 1970's John Lennon/Plastic Ono Band stands out with bare-bones ballads like "Isolation" and "God" that rely heavily on Lennon's passionate singing and playing. 1983's posthumous Milk and Honey also features Lennon's folk tendencies on peaceful songs like "I'm Stepping Out." Besides studio albums, the John Lennon Anthology box set includes fascinating Home Tapes of Lennon writing songs on his acoustic guitar. These various releases all celebrate Lennon's artistry and authenticity as a solo singer-songwriter.
7. Influence and Legacy
John Lennon's influence on popular music and culture is undeniable. His legacy as an activist and artist dedicated to love and peace continues to inspire new generations. As shown in "Acoustic", Lennon's musical influence also extends into the folk and singer-songwriter genres. His eloquent lyrics, inventive chord voicings and technical skill on the acoustic guitar influenced many fellow troubadours like Neil Young, Elton John, Bob Dylan and more. The intimacy Lennon conveyed through minimalist acoustic arrangements anticipated trends in folk-rock and inspired generations of musicians. Even amidst The Beatles' immense popularity, he followed his own muse as an acoustic singer-songwriter. This creative integrity and textured guitar playing continue to resonate in popular music today.
In Conclusion
John Lennon's Acoustic album is a powerful tribute to his unparalleled skill as an acoustic guitarist and solo artist. The selected demos, outtakes and live recordings offer a moving retrospective of Lennon's post-Beatles musical journey.
Just him and his guitar, without any embellishments or studio tricks, Lennon's protest music genius shines through. Though his legacy remains defined by achievements like "Imagine" and his role in The Beatles, Acoustic showcases John Lennon's enduring brilliance as a singer-songwriter.
Simple and unadorned, the album's arrangements highlight Lennon's fingerpicking technique, intuitive chord changes and raw personal voice. Through pop highs and lows, Lennon consistently relied on his acoustic guitar as solace and muse.
Acoustic immortalizes that relationship in all its imperfect beauty.
As an artist and a fan of John Lennon, I painted the portrait of him as seen in this article, using his famous acoustic guitar. The portrait is my tribute to John Lennon, a working-class hero to many.
I hope you enjoyed reading this article about John Lennon Acoustic. If you have any questions or comments, please feel free to share them with me. 😊
10 Frequently Asked Questions About John Lennon
Q: What was the full name of John Lennon?

A: John Lennon's full name was John Winston Lennon. He later changed his middle name to Ono in honor of his wife, Yoko Ono.

Q: When was John Lennon born?

A: John Lennon was born on October 9, 1940, in Liverpool, England. He was the only child of Alfred and Julia Lennon.

Q: What was the first band that John Lennon joined?

A: The first band that John Lennon joined was The Quarrymen, a skiffle group that he formed with his friends in 1956. The Quarrymen later evolved into The Beatles.

Q: Who took care of John most of his life?

A: John was mostly raised by his aunt Mimi and her husband George Smith, who took him in when he was five years old. His mother Julia lived nearby and visited him often, but she died in a car accident when he was 17.

Q: What was John Lennon's height?

A: John Lennon was about 5 feet 10 inches (178 cm) tall. He was slightly taller than Paul McCartney and George Harrison, but shorter than Ringo Starr.

Q: Which one of these is not one of John Lennon's songs?
A) Working Class Hero B) Instant Karma! C) Hey Jude D) Imagine
A: The correct answer is C. "Hey Jude" is not one of John Lennon's songs. It is a song by Paul McCartney, who wrote it for John's son Julian. The other three songs are all written by John Lennon.
Q: How many children did John Lennon have?

A: John Lennon had two children: Julian Lennon and Sean Lennon. Julian was born in 1963 to his first wife Cynthia Powell, and Sean was born in 1975 to his second wife Yoko Ono.

Q: What was the name of John Lennon's father?

A: John Lennon's father was Alfred Lennon, a merchant seaman who abandoned his family when John was a baby. He later reappeared in John's life when he was a teenager, but they never reconciled.

Q: Which band was founded by John Lennon?

A: The band that was founded by John Lennon was The Beatles, the most influential and successful rock band of all time. He formed the band with Paul McCartney, George Harrison, and Ringo Starr in the early 1960s.

Q: What was the final concert appearance of John Lennon?

A: The final concert appearance of John Lennon was on November 28, 1974, at Madison Square Garden in New York City. He joined Elton John on stage for three songs: "Whatever Gets You Thru the Night", "Lucy in the Sky with Diamonds", and "I Saw Her Standing There".
The Following Best Selling Book May Also Interest You
By Cynthia Lennon: Author